So Much for Name Recognition
Please give our regards to Mr. Happy New Year.
From a letter sent by Al Gore's office in response to a Rosh Hashanah invitation. Submitted by Neil J. Salkind of Lawrence, Kan.
Fish Happens
EDITOR'S NOTE: It's hard to come up with something funny when it already says "Boiled Crap."
From Aaron's Gourmet Emporium's Passover menu, Rego Park, New York. Submitted by Gary N. Friedlander of Sun City, Ariz.
Kosher for Overpass
If you hit Trayf Boulevard, you've gone too far.*
From a highway sign near Jacksonville, Fla. Submitted by Miriam Foss of Baltimore.
*A heksher is an official seal of
approval on kosher food.
Good Old Honest Lot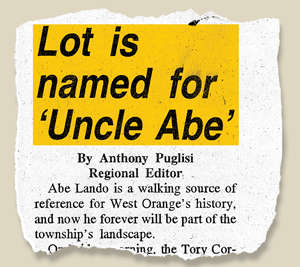 His wife is a "pillar" of the community.
From the West Orange Chronicle, West Orange, NJ. Submitted by P. David Gleaner of West Orange, NJ.