Pesto Chicken Pasta Salad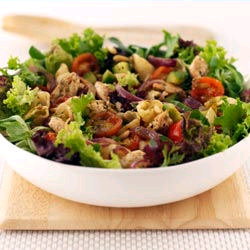 Ingredients
2 chicken breast fillets
1 tsp olive oil
4 tbsp pinenuts
5oz pasta shells
1/2 red onion, sliced
8oz cherry tomatoes, halved
6oz cucumber, deseeded and cut into sticks
1 bag Italian salad leaves
For the dressing:
1 tbsp olive oil
2 tbsp pesto sauce
1 tbsp red wine vinegar
 
Preparation:
Heat a griddle pan.
Pour the olive oil into a small pan, then use a brush to brush both sides of the chicken with a little oil, season well. Cook the chicken breasts on the griddle for 15-20 mins, turning once until golden brown on the outside and cooked through. Thinly slice.
Meanwhile, cook the pasta in boiling salted water for 8-10mins or until just cooked and still 'al dente'.
Add the pinenuts to the remaining oil in the small pan and cook over a low heat for 2 mins or until golden brown and toasted. Drain on kitchen paper.
Drain the pasta in a colander then run under the cold tap until the pasta is cold.
Drain then place in a large bowl. Add the chicken pine nuts, onion, tomatoes and cucumber.
Mix all the dressing ingredients together and toss into the salad bowl.
Season to taste.
If liked, the salad can now be refrigerated for up to 2 hours until required.
Just before serving, add the salad leaves and toss again to mix.