White Bean, Chicken and Pesto Soup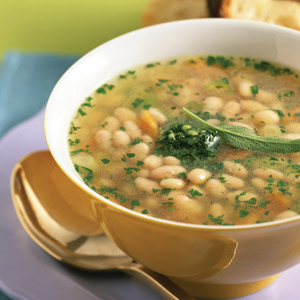 Serves eight
Note: Substitute any kind of canned bean or leftover meat, such as beef. The vinegar at the end of cooking heightens the flavor.
1 tablespoon olive oil
1 onion, chopped
3 garlic cloves, minced
1 rib celery, chopped
1 carrot, chopped
1 teaspoon dried oregano
¼ teaspoon cayenne pepper
6 cups chicken stock
1 teaspoon salt
¼ teaspoon freshly ground black pepper
2 cans (each 14 oz. to 19 oz.) cannellini or white kidney beans, drained and rinsed (see Note, above)
3 cups shredded cooked chicken (see Note, above)
¼ cup pesto (store-bought or your own), divided
2 teaspoon white wine vinegar
Extra-virgin olive oil
1. In large pot, heat oil over medium heat. Add onion and sauté until softened, about six minutes. Add garlic, celery, carrot, oregano and cayenne; sauté for two minutes.
2. Stir in stock, salt and black pepper; bring to a boil. Reduce heat and simmer until vegetables are softened, about 20 minutes. Add beans, chicken, 2 tablespoons pesto, vinegar; heat until steaming, about five minutes. Taste and adjust seasoning with salt and black pepper, if necessary.
3. Ladle into heated bowls and garnish each with a small dollop of remaining pesto and a drizzle of olive oil.
From "300 Sensational Soups," by Carla Snyder and Meredith Deeds