Black Bean Tortilla Soup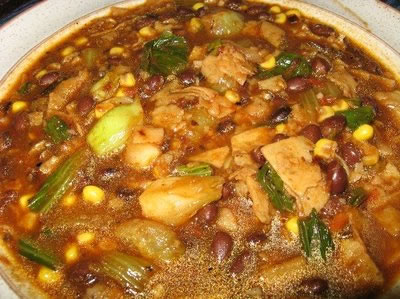 Prep: 30 minutes
Cook: about 35 minutes
Makes: 8 main-dish servings
(After making this the first time tonight, those times are about right. It was a little over an hour beginning to end.) It was a little bit spicy, but not too much and quite delicious.
Ingredients
1 tbsp. vegetable oil
1 1/2 lbs. chicken breast
1/2 tsp. salt
1 lg. onion, chopped
2 med. poblano chiles, seeded and chopped
2 cloves garlic, crushed with press
1 1/2 tsp. ground cumin
1 tsp ground coriander
4 cups reduced sodium chicken broth
2 cups water
1 cup frozen corn kernels
32 oz. black beans, rinsed and drained (about two cans)
1/4 cup fresh lime juice
1/4 cup loosely packed fresh cilantro leaves, chopped
2 cups coarsely broken tortilla chips
Directions
In 6-qt. saucepot, heat vegetable oil over medium-high heat until hot.
Sprinkle chicken with salt. Add chicken to saucepot and cook until lightly browned, stirring occasionally. (Do in more than one batch, if necessary.) With slotted spoon, transfer chicken to medium bowl once it is browned.
Add onion, poblanos, and garlic to saucepot; cook on medium 10 minutes or until vegetables are lightly browned and tender, stirring occasionally. Stir in cumin and coriander; cook 1 minute. Add broth and water; cover and heat to boiling.
Return chicken, and any juices in bowl, to saucepot; stir in frozen corn and black beans. Heat to boiling on medium-high; reduce heat to medium-low and simmer, uncovered, 10 minutes to blend flavors. Stir in lime juice and cilantro.
Ladle soup into bowls. Serve with tortilla chips for sprinkling on top of soup.
*Notes: My husband asked me to use less onion next time I make it, and I'll probably use more corn, also. It would be a good idea to cut the chicken into little pieces before you cut it (or after, while you are waiting for the vegetables to cook).
Each serving: About 240 calories, 22 g protein, 25 g carbohydrates, 7g total fat (1 g saturated), 5 g fiber, 71 mg cholesterol, 625 mg sodium.