Graham Cracker Toffee Bars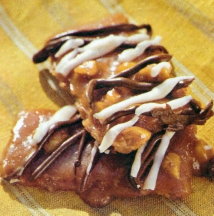 1 cup butter
1 cup brown sugar
4-5 large Hershey Bars, broken into sections
1 package toffee bits
½ cup chopped pecans
Non-stick spray Spray
10- by 15-inch cookie sheet with non-stick spray.
Line sheet with graham crackers.
Melt butter and brown sugar, stirring constantly until mixture reaches "soft ball" stage (140 degrees on candy thermometer).
Pour over graham crackers.
Bake at 350 degrees for 10 minutes.
Remove from oven.
Place pieces of Hershey bars over top and spread with a knife as chocolate melts.
Sprinkle with toffee bits and pecans.
Place in freezer until hard, then break into pieces and store in Ziploc bags until ready to serve.
Placing a cloth over the cookie sheet after the bars have been placed on the toffee helps the bars melt faster.