The Chocolate Haupia Pie recipe comes in two parts: a crust containing macadamia nuts, and the haupia filling.
Haupia Pie Crust Recipe
from the "Hilo Haupia Squares" recipe by Sam Choy
Ingredients
1/2 cup macadamia nuts (roasted, unsalted)
1 cup cold butter
2 cups flour
1/4 cup light brown sugar
Method
1. Heat oven to 350*F.
2. Pulse nuts in food processor till coarsely chopped.
3. Cut butter into pat-sized pieces.
4. Add butter, flour, and sugar to processor.
5. Pulse till butter is fully incorporated; it will just look like a dry, crumbly mixture.
6. Dump it into a 9x13 baking dish, and press with your hands to cover the bottom and about an inch or so up the sides of the pan.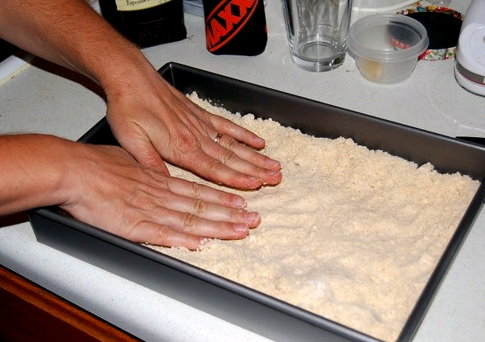 7. Bake 15 minutes, till golden brown.
While the crust is baking, you can start making the haupia pudding for the filling.
Haupia Pie Filling Recipe
adapted from "Maika'i Favorites" by way of the Honolulu Star-Bulletin
Ingredients
10 ounces semi-sweet chocolate
2, 10-ounce cans of coconut milk (we like the Mae Ploy brand)
1-1/2 cups milk
1-1/2 cups sugar
3/8 cup cornstarch
1-1/2 cups water
Method
1. Whisk coconut milk, milk, and sugar together in a small saucepan. In a separate bowl, whisk the cornstarch and water to make a slurry. Bring the coconut milk mixture to a boil, then reduce to a simmer. Slowly pour in the cornstarch slurry, whisking until thickened.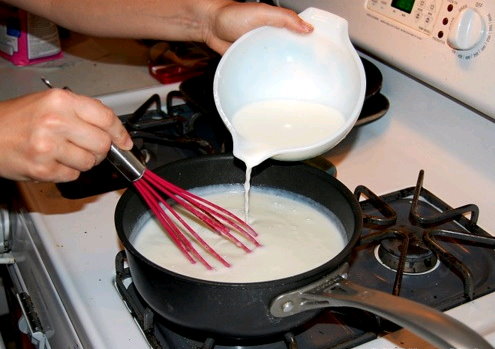 2. Microwave the chocolate pieces in a glass bowl on high for 1 minute. Stir to melt completely.
3. Separate half the haupia mixture into another bowl. Add the melted chocolate into the bowl of haupia.

4. Mix the chocolate and haupia together until well incorporated.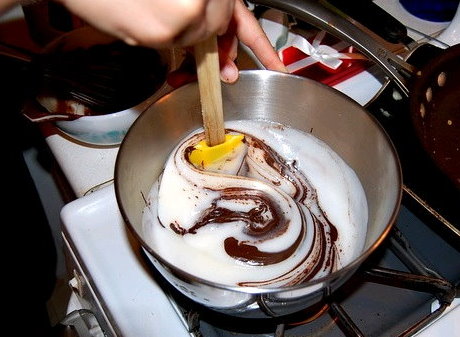 5. Pour the chocolate haupia mixture into the baked pie crust and spread it evenly over the bottom.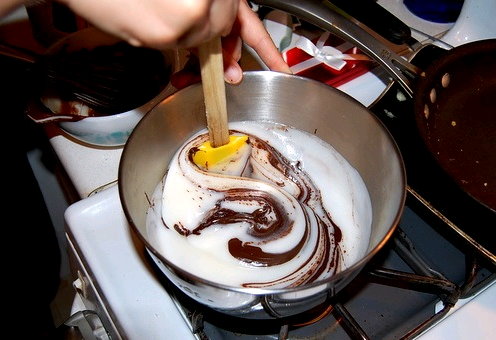 6. Pour the remaining haupia onto the top of the chocolate layer.

7. Chill in the refrigerator at least 1 hour to set. Garnish with shaved chocolate and whipped cream.

I do hope you get to try out this chocolate haupia pie recipe. It's really very easy to make, and the results are well worth it.
http://chezannies.blogspot.com/2010/03/chocolate-haupia-pie-recipe.html