Peach Berry Betty
Source: Adapted from Better Homes & Gardens, "New Cookbook"
Serves: 6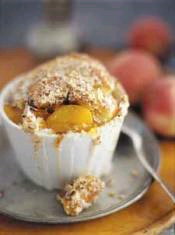 3 cups fresh red raspberries (or one 12-ounce package frozen)
2 cups sliced and peeled fresh peaches (or frozen unsweetened peach slices)
1/2 cup sugar
1 tablespoon all purpose flour
1 tablespoon finely chopped crystallized ginger (or 1/8 teaspoon ground ginger)
5 cups soft whole wheat bread cubes (about 7 slices)
3 tablespoons butter or margarine, melted
whipped cream/topping (optional)
Preheat oven to 375°F.
Thaw fruit if frozen, do not drain. In a large mixing bowl combine sugar, flour and ginger.
Add fruit and their juices, toss to coat.
Add 2 cups of the bread cubes and toss gently until combined.
Transfer mixture to an ungreased 2-quart square baking dish.
For the topping, place remaining bread cubes into a medium bowl, drizzle with butter or margarine, toss to coat and sprinkle over fruit mixture.
Bake for about 30 minutes until fruit is tender and topping is golden. Serve warm with optional whipped cream.