YETTA'S SPAGHETTI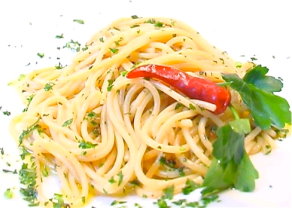 1 teaspoon salt, plus a pinch
1 stick of butter or margarine
2 tablespoons tomato paste
1 10-ounce can tomato sauce
Dash of paprika
1/4 teaspoon black pepper
1 teaspoon sugar
4-6 cloves of garlic (depending on how much you like), peeled and mashed
1 pound spaghetti
Put on a large pot of water, including 1 teaspoon salt. As you wait for it to boil, melt the butter in a saucepan. Then add tomato paste and tomato sauce. Stir until smooth, keeping the heat low. Add pinch salt, paprika and black pepper. Add sugar and stir. Add the garlic.
Simmer sauce about 5 minutes.
Put pasta into boiling water. Cook until al dente — check after several minutes by taking a fork, removing a strand and biting into it. If it's too firm, try again in 20 seconds. The spaghetti should be slippery and supple, but just slightly firm.
Drain pasta in a colander. Never rinse pasta in cold water.
Place pasta in a big bowl and pour sauce over it. Toss together and serve immediately.
Yield: 8 servings