THE ALLAN SHERMAN TRIVIA QUIZ


by
Marjorie Gottlieb Wolfe



Syosset, New York
There's a new biography titled, "Overweight Sensation: The Life and Comedy of Allan Sherman" by Mark Cohen. Sherman was born in 1924 and died in 1973, a few days short of his 49th birthday. He has been described as a "heavyset, bespectacled comic, who turned himself into a star, sold millions of albums, and won a Grammy." He also managed to say something about the place of Jews in 1960s America.
Sherman had Jewish grandparents (zeyde-bobe) who spoke Yiddish...and that is what he was going to be. So, Humpty Dumpty sat on a train/ happily singing "Bei Mir Bist Du Schoen."
Which of the following statements is true about this song?
a) It actually means something more like "You are beautiful to me" or "to me you are beautiful"
b) It was written in 1932 by Shalom Secunda , a Jewish immigrant.
c) The song was popularized by the Andrew Sisters and many other Swing Era artists
d. All of the above
The correct answer is d).
Grab a #2 pencil and let's see how well you fare on this quiz.
1. Sherman sang parodies of B'way show tunes. He irritated Richard Rogers, who detested Sherman's changing"There is Nothing Like a Dame" (from South Pacific) to
a) "There Is Nothin' Like an Egg Cream"
b) "There Is Nothin' Like a Lox"
c) "There is Nothin' Like Latkes"
2. Sherman's biggest hit was
a) "50 Shades of Flayshik"
b) "Hello, Muddah; Hello, Fadduh"
c) "50 Shades of Earl Grey Tey (tea)
d) ""noes min hashomayim" - Miracle from Heaven"
3. Sherman's parody of "My Fair Lady" was set in the Jewish section of
a) Baltimore, MD
b) Boro Park, Brooklyn
c) Los Angeles
d) SOBRO--newly gentrified South Bronx area
4. Sherman's second album featured the Israeli folks song, "Hava Nagila." He renamed it
a) Howard and Sheila
b) Harvey and Sheila
c) Henry and Sheila
5. In one parody, Sherman sings:
We got herring sweet and sour.
We got pickles old and young.
We got corned beef and pastrami
and a lot of tasty tongue.
We got ____________ Cream Cheese in a little wooden box.
What ain't we got?
We ain't got lox.
What is the missing word? _____________________
6. What president told Sherman, "I have you record and I like it very much"?
a) Lyndon B. Johnson
b) JFK
c) Dwight Eisenhower
7. One of Sherman's lyrics said,
"I shot and Sam Crumbled/ Just like a piece _____________."
a) Halvah
b) hamantashn (triangular little cakes that are special treats during the Feast of Purim.)
c) holebtses (stuffed cabbage)
8. When Sherman lived in the Brentwood section of West Los Angeles, who was his next door neighbor?
a) Tony Curtis
b) Harpo Marx
c) Fyvush Finkle
9. Sherman produced a short-lived 1954 game show named
a) "That Was the Week That Was"
b) "Password Plus"
c) "Super Password"
d) "What's Going On?" ("Vos tut zikh?)
10. Matilda : "My Zelda" : :
Water Boy : ________________
11. In 1971, Sherman was the voice of Dr. Seuss's The Cat in the Hat for a television special.
a) True
b) False
12. In "Hello Muddah: Hello, Faddah" (A Letter From Camp), we hear,
Now I don't want this should scare ya
But my bunk mate has ______________.
You remember Jeffrey Hardy?
They're about to organize a searching ____________.
Complete the blanks.
13. In Sherman's "The Twelve Days of Christmas" lyrics, on the eleventh day his true love gave him
a) an automatic vegetable slicer that works when you see it on television but not when you get home
b) Jackie Mason's Famous Broadway Cheesecake; it's lactose, cholesterol and butterfat-free and available in plain, chocolate marble, cherry and strawberry.
c) The ManagedCare Blues Band version of "Uninsurable. That's What You Are" and "You May Be Hypothermic. But You Ain't Lost Your Cool."
14. In "The Painless Dentist Song" by Sherman, we hear,
Beautiful molars
Lovely bicuspids
I'm Dr. Prentice, the painless dentist;
By that what's meant is,
It really doesn't hurt.
This is Miss Klinger; you've met her finger.
So open wide and Miss Klinger will squirt.
Well, well, I say there,
we've got decay there.
Can't let it stay there and cause you all that pain.
So please Miss Klinger, remove your finger,
And won't you hand me down my __________________.
What is the missing word?
15. In 1965, Milton Bradley produced Allan Sherman's Camp Granada Game, a board game for children. What was the object of the game?
a) To escape from camp and go home
b) To get hired as a CIT (counselor- in- training)
c) To choose a camp for "a few good mensans" (Bring a notarized copy of your SAT scores)
16. To the tune of "Summertime" from Porgy & Bess, Sherman wrote:
Summertime
Everybody is SHVITZING.
Schmaltz is melting
And the Catskills is high.
Oh, your Daddy's sad,
He'll come up for the VEEKEND…
What is the Yiddish word for "weekend"?
17. Sherman's repertoire of Jewish song parodies included
"Chopped Liver." It parodied Johnny Mercer's ___________ __________
from the movie, Breakfast at Tiffany's.
18. Sherman did a Jewish parody of "Camelot"--called "OLLAVOOD!"
The movie stars all sit around the pool there. The food at
Nate 'n' Al's Is very good. And Sammy Davis Jr. goes to _________
there in OLLAVOOD!
19. In Sherman's version of "Wouldn't It Be Lovely," we hear:
All you need is a coat with minks
Cocktail watches and cocktail RINKS
And other Jewish thinks
And wouldn't that be lovely
All you need is a matzoh ball
Lots of carpet from wall-to-wall
A sleep-in maid, that's all
And wouldn't it be lovely
You'll start learning to play _________________ like the girls all do
And by next December, you'll wind up in the __________________
[hotel]
Fill in the two missing words.
20. In Sherman's twist on Meredith Wilson's "Seventy-six Trombones"
we hear "Seventy-six ________ _______________ in the country
club. And a hundred and ten nice men named Levine. And there's
more than a thousand FINKS who parade around the links. It's a sight that really must be seen….
Fill in the missing words.
21. In January 1963, at the Pasadena, California Civic Auditorium, Sherman
shared the bill with ____________ ____________________, who was giving his last performance.
Fill in the missing name.
22. Sherman wrote a parody after his mother died in May of 1953.
It is a comic valentine to the childhood ("KINDHAYT") WORLD she ran from and he ran toward. It's about Sherman's "UNCLE MORRIS" and sung to the tune of "How Are Things in Glocca Morra" from Finian's Rainbow.
How are things with Uncle Morris?
Does he still work in the candy store?
Does he still run like he always did
To get some kid
Fa nickel halavah?

…
And does he walk around in his GATKES Eating LATKES there?
What are "GATKES"?
ANSWERS:

1. b
2. b
3. c
4. b
5. Philadelphia
6. b
7. a
8. b
9. d
10. "Seltzer Boy"
11. a
12. Malaria/Party
13. a
14. Novocaine
15. a
16. (DER) "SOF-VOKH"
17. "MOON RIVER"
18. SHUL
19. CANASTA/ FOUNTAINEBLEAU
20. SOL COHENS
21. HARPO MARX
22. LONG UNDERWEAR
--------------------------------------------------------------
MARJORIE GOTTLIEB WOLFE'S FAVORITE EXAMPLE OF
ALLAN SHERMAN'S WORDPLAY IS THE PARODY OF THE
"THE BATTLE HYMN OF THE REPUBLIC." HIS KILLER PUN:
"WHERE THE DRAPES OF ROTH ARE STORED."
___________________________________________
Marjorie Gottlieb Wolfe is the author of
two books: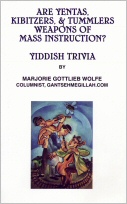 "Yiddish for Dog & Cat Lovers" and
"Are Yentas, Kibitzers, & Tummlers Weapons of Mass Instruction? Yiddish
Trivia." To order a copy, go to her
website: MarjorieGottliebWolfe.com

NU, what are you waiting for? Order the book!


Site Designed and Maintained by
Haruth Communications