A YIDDISH GUIDE TO THE CARNEGIE DELI


by
Marjorie Gottlieb Wolfe



Syosset, New York
David Sax ("Save The Deli") listed the Ten Commandments of the Jewish Deli:
#9 Thou shalt not eat at any establishment calling itself a "New York deli" where the following is also served:
sushi, Thai food, pizza, pasta, lobster.
The "gut nayes" (good news):
You can enjoy a new "sendvitsh" (sandwich) at the Carnegie Deli—"If I Were A -Wich Man." The new limited edition menu item is in celebration of the Tony Award winning B'way musical, "Fiddler on the Roof."
It features two meats—brisket and corned beef from "der katsev" (the butcher, Lazar Wolf), matched with Tevye the Dairyman's Swiss Cheese (because it's Holy), Russian Dressing, Coles-l'chaim (yes, a coleslaw pun), Miracle of Miracle Whip (mayo), all on Rye with a Kosher pickle.
The "shlekht nayes" (bad news) is that this sandwich is only available until the end of the year. The Carnegie Deli's flagship store—a Manhattan fixture since 1937—is closing on Dec. 31.
Owner, Marian Harper, announced the news to its 60 employees. Harper's father bought the Manhattan deli from the original owners in 1976. Carnegie will still have locations in Las Vegas; Bethlehem, PA; New York's Madison Square Garden; and at the U. S. Open Tennis tournament in Queens.
Shown below is a Yiddish guide to this landmark restaurant:
"koyfn" (to buy)
The Carnegie, located at 854 7th Avenue, was purchased in 1991 for $1.2 million. Sandy Levine said, "If you don't own the building, the landlord is your partner. That's what's causing a lot of the competition to go out of business. When their leases are up, the landlords are very, very demanding and you van't make deals." Source: "Save the Deli" by David Sax
"traif" (not kosher)
The Carnegie deli is not kosher.
"shrayber" der (writer/author)
According to David Sax, "…Carnegie Delicatessen was where television writers from Brooklyn and the Bronx— Sid Caesar, Mel Brooks, and Carl Reiner—met and joked around with the hot acts of the Catskills—Jackie Mason, Gene Baylos, Henny Youngman, and the legendary Freddie Roman."
"oyfhitn" (to preserve)
Upon hearing that the Carnegie Deli was closing, a man responded on Facebook: "Carnegie Deli played a real factor in my decision to move to NYC. Now you're going to take the easy way out? You're going to turn your back on us?"
Others have said the city should find a way to classify Carnegie Deli as a cultural landmark that must be preserved.
Marian Harper, 65, owner, said that the long hours had taken a toll on her. "I've reached a time in my life when I need to take a step back." (Harper will focus on licensing the brand and selling products for wholesale distribution.)
"sendvitch"
The Le Bron MVP is a pastrami, corned beef, brisket, and turkey with American Cheese ("instead of Swiss, because he's an American-born player"), plus lettuce, tomato, and mustard on rye.
"leber" (liver)
The Carnegie offers a liver sandwich called, "50 Ways to Love Your Liver," after the Paul Simon song "50 Ways to Leave Your Lover."

"hesped" (eulogy)
Leo Steiner, co-owner of the Carnegie Deli, passed away in 1988, at the age of 48. He was eulogized by comedian Henny Youngman as "the deli lama."
Steiner participated in the U. S. bicentennial celebration by making a 60-pound Statue of LIVERTY from chopped liver, complete with a turkey wing torch.
"konkurent (der) - competitor In 1988, the Carnegie and the Stage Deli went head to head in what the New York Times dubbed "The Pastrami Wars." Over the years, both delis have tried to outdo each other by increasing the size of their sandwiches.
Note: The Stage Deli closed in 2012. They were known for its tongue-in-cheek promotions—like $14.95 red, white and blue Fourth of July blintzes marked down for $17.76.
"grunteygns" (real estate)
"in ergets nit" (nowhere)
When Freddie Klein, a veteran Manhattan restaurant broker was asked where in Manhattan a deli could find a reasonable lease that wouldn't drive them out of business, Klein answered, "There's nowhere to go." Period. Source: "Save the Deli" by David Sax
"kelner" (der) - waiter
According to Harry Gluckman, "The waiters at Carnegie were also almost stage like characters, who contributed to the selling of the scene for your meals, and willingly made their recommendations for what you should eat that would be 'much better than what you were about to order!' They would also be quick to correct you if you ordered the wrong kind of drink to go with your order, and generally served a Cream sofa to go with pastrami or corned beef in place of whatever you might have (mistakenly!) ordered. 'You think I don't know what you really wanted? was their reply when you questioned the change in your order."

"turist" (tourist) trap
The 1997 Zagat Survey on N. Y. C. Restaurants rated the Carnegie Deli as follows:
"A tourist trap you won't mind getting trapped in, this "epic deli" has it all—theatrically 'rude waiters,' "Fred Flintstone- sized sandwiches" and a "critic-proof" rep as the "quintessential NY" deli."
Zagat's 1989 Restaurant Survey wrote about the Carnegie Deli: Both Broadway Danny Rose and Leo Steiner live at this quintessential New York deli, complete with "surly waiters," a few stars, lots of tourists, gigantic sandwiches, and "the best pastrami in the galaxy,' not to mention borsht, chopped liver, corned beef and cheesecake" expect to eat elbow to elbow and to wait on line, but don't complain—It's the best of the breed.
"prayz" (der) - cost
How expensive is it to dine at the Carnegie Deli? Here's a list of some of the items found on their "menyu":
| | |
| --- | --- |
| Novie Salmon and cream cheese on bagel | $18.99 |
| The Woody Allen Sandwich (for the dedicated "fresser") | $29.99 |
| Chopped liver with lettuce & tomato | $16.99 |
| My Fair Latkes (3 potato pancakes) | $15.99 |
| 3 eggs with a side of Novi | $16.99 |
| 3 eggs with diced pastrami & corned beef | $15.99 |
| NY style egg cream | $ 4.49 |
| "Big Apple" sauce | $ 3.49 |
| Challah French Toast | $12.99 |
"farmakhn" (to shut)
In April of 2015, the Carnegie Deli was forced to shut down after Con Ed inspectors found it had hooked up a gas line improperly. The restaurant reopened after paying $40,050 to Con Ed to resolve the matter.
"film" (film)
Scenes from Woody Allen's 1984 film, "Broadway Danny Rose" were shot at the Carnegie Deli. Leo Steiner, owner, appeared as himself in the film and subsequently created a "Danny Rose" sandwich. Its filling includes corned beef, pastrami and coleslaw and it comes in a special doggy bag.
The Carnegie Deli Restaurant was shut down for two working days for the shooting of the ilm's scenes there.
"tsaytung (newspaper)
"get" (divorce)
The following newspaper headline appeared in 2013:
Carnegie Deli Owner In Divorce Battle Says Husband Cheated AND Gave Away Secret Recipes (huffingtonpost.com)
Marian Levine divorced her husband, Sandy Levine, after 22 years of marriage. She says he cheated on her with a former Carnegie waitress. He allegedly also gave his mistress the inside scoop on some of their best sellers, like pastrami and cheesecake.
---
MARJORIE WOLFE'S favorite story about Jewish food:
Buddy Hackett told about his reaction to eating army food. He baffled the doctors on sick call when he complained that without the "chrain" (horseradish), the "shmaltz" (chicken fat) and the "tsibbeles" (onions), the heartburn ("harts-brenenish") necessary to life was no more. The fire ("der fayer") had gone out.
___________________________________________
Marjorie Gottlieb Wolfe is the author of
two books: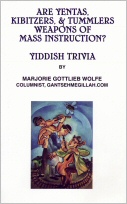 "Yiddish for Dog & Cat Lovers" and
"Are Yentas, Kibitzers, & Tummlers Weapons of Mass Instruction? Yiddish
Trivia." To order a copy, go to her
website: MarjorieGottliebWolfe.com

NU, what are you waiting for? Order the book!


Site Designed and Maintained by
Haruth Communications