ORCHARD STREET - I REMEMBER IT WELL


by
Marjorie Gottlieb Wolfe



Syosset, New York
Some Yiddish words:
ice cream - "eiz krem"/"ayzkrem"
book - "bukh'"
author - "mekhaber"
queen - "malke"
rag - "shmate"/"shmatteh," "tranteh"
to bargain - "dingen zikh"/"handlen"
angry person - "kaasnick, kaasen, farbrenter"
Author, Susan Jane Gilman, will be speaking at Temple Judea of
Manhasset, located on Long Island. She is the author of a book
titled, "The Ice Cream Queen of Orchard Street."
The Library Journal wrote, "The Ice Cream Queen of Orchard Street" - "with its vivid depictions of old New York City tenement life and its tale of the American ice cream business set against the backdrop of the major events of the 20th century, this rags-to-riches saga will appeal greatly to readers of American historical novels."
Eleanor Widmer ("Up From Orchard Street") wrote: "Sundays on the Lower East Side offered drama as compelling as theater. And Manya was part of it. Shopping between Orchard and Essex Streets evoked a European market fair. In the bitterest weather or the most humid, she went forth with her oilcloth shopping bags. The merchants would hail her: "Manya, Manya, you should go to the Yiddish tayater on Second Avenue. Molly Picon in Ah Be Zum Labin, or Der Alta Koenik. Oh did I cry, hub ich gevanyt, such three daughters, the oldest, a tyvil, mean to her tateh."
Orchard Street is eight blocks in length. The Street was named for the orchard that grew there in the mid-1700s.
Lesley Sussman ("The last Jews of Orchard St., hanging on by a thread," The Villager) wrote, "Even as late as the 1960s, the eight city blocks between East Houston St. and Division St. that make up Orchard St. had a primarily Jewish flavor, with most of the businesses owned by Yiddish-speaking, bearded, and yarmulke-wearing Jews who closed shop each Saturday for the Sabbath and reopened their doors Sunday morning."
Nina Howes, "Lower East Side Oral Histories," writes, "...you shopped in Orchard Street, you hoped your friends wouldn't see you. They'd be shopping in Orchard Street, too, but they'd tell you, 'No, no, I was just walking there with my mother.'"
Tracie Rozhon ("Bargain Shopping," NYTimes") wrote, "The secret of Orchard Street is haggling. Don't be afraid. You don't have to be a pro. Just try walking out and see what happens. Think of what you want to pay, and just keep repeating it on your way to the door. It's fine, and you'll probably get what you want. But don't play the game if you're not serious, or you'll end up with some angry merchants."
The late Sam Levenson ("In One Era & Out the Other") wrote, "Our mamas did not hesitate to bargain. Questioning a price was standard procedure. People like Mama, who could not risk spending an extra penny, questioned everything."
A little Orchard Street humor:
A man went to one Jewelry store on Orchard Street (Yaf Sparkle, Anna Sheffield, Kirkstraat Jewelers ("Vos makht dos oys?"--What difference does it make?) to buy his wife a set of "perl" (pearl) earrings.
"You'll like these," said the jeweler, displaying an "tayer" (expensive) set. "Guaranteed one-hundred-percent cultured."
"Cultured! Pultured!--Shmultured!" exploded the customer. "I want just plain pearls. Let somebody else pay for their college diploma!"
In Jerry Stiller's book, "Married to Laughter," Jerry relates the story of his mother taking him to ORCHARD STREET to purchase a Bar Mitzvah suit. His mother's bargaining skills "were honed to razor sharpness." The wool, top-of-the-line material (not to be confused with rayon or some synthetic) had an asking "prayz" (price) of $13. His mother told him, "Don't say you like it because he's going to want more money if he knows you like it." After "handlin," the suit cost $6.50.
Orchid Street today:
Zarin Fabrics, located at 69 Orchard Street, has been around since 1936.
Harry Zarin was the founder. It has been located on Grand, Allen and two different Orchard Street addresses. It now takes up three levels of its current building, selling colorful fabric ("shtof") bolts as well as window ornaments and upholstery. In the '80s, a huge fire occurred and their inventory went into storage.
Harry's son, Bobby, used a bullhorn to advertise the new location, which was only legal if it included a public service announcement. So, Bobby would drive through the streets announcing, "Come visit Harry Zarin Company's new fabric warehouse--AND DON'T FORGET TO VOTE!"
The ORCHARD CORSET CENTER
In 1968, Isaiah Bergstein opened Orchard Corset, when corsets were very much in demand. As corset sales diminished, Isaiah began to add a line of bras, girdles, and shapewear. Magda, his wife, was well-known throughout all of N. Y. as the finest bra ("stanik") fitter in Manhattan. She could tell any woman who walked through the door her correct bra size with a three-second glance. Later, because of popular television reality shows, she became known as the "bra whisperer." Daughter-in-law, Peggy, is now a second generation "bra whisperer."
And ALTMAN LUGGAGE, 135 ORCHARD STREET, has been around since 1920. The Altmans retired in the late '70s, and sold the business to Bettinger's Luggage Shop, an even older neighborhood store on Rivington Street that was founded in 1914. James Gandolfini regularly shopped there.
MOSCOT'S EYEWARE
Moscot's eyeware was started by Hyman Moscot. He began selling ready-made eyeglasses ("briln") from a pushcart ("shtupvegl") on Orchard Street.
In 1925, Hyman's son, Sol, joined the family business at the age of 15. He helped take over the reigns of the family's first retail store, at 94 Rivington Street. By 1938, the company settled at 118 Orchard Street on the corner of Delancey. In Jan. 2015, Moscot celebrated its 100 year birthday.
ORCHARD STREET RUNNERS (OSR)
Joe DiNito founded Orchard Street Runners. The members include a wide variety of people who live and work on the Lower East Side. OSR also produces community based social events around the running community. Notable races include Midnight Half.
------------------------------
MARJORIE WOLFE LAST SHOPPED ON ORCHARD STREET IN 1961. SHE STILL HAS A NOSTALGIA FOR THE ORCHARD STREET OF BYGONE DAYS....AND THE DAVEGA APPLIANCE STORE, MALTZ'S CANDY STORE, THE CHARLOTTE RUSSE, DREW PEARSON, AND "THE SHADOW" ON SUNDAYS AT 5:00 P.M.
___________________________________________
Marjorie Gottlieb Wolfe is the author of
two books: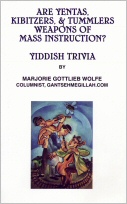 "Yiddish for Dog & Cat Lovers" and
"Are Yentas, Kibitzers, & Tummlers Weapons of Mass Instruction? Yiddish
Trivia." To order a copy, go to her
website: MarjorieGottliebWolfe.com

NU, what are you waiting for? Order the book!


Site Designed and Maintained by
Haruth Communications