ITíS SPRING DRESS FOR SUCCESS


by
Marjorie Gottlieb Wolfe



Syosset, New York
The Yiddish word for spring is "friling."
The Yiddish word for success is "hatslokhe."
In Billy Crystal's book, "700 Sundays," he wrote about how his family dressed:
"They all looked exactly alike, and they all wore the same thing: big monk hats, beaver coats, earmuffs, gloves, mukluks, Persian lamb coats, beaver coats... all at the same time. The women are wearing a fox stole, head, claws and tail, with a clasp that was always the fox biting its own foot....They were wearing the NORMAN BATES line of clothing."
Do you believe the Yiddish proverb, "Dos oybershte kleyd fardekt di untershe leyd" (The outer dress hides the inner distress)? And do you agree with Lisa Takeucni Cullen that "The No. 1 mistake is looking too sexy?" "Cleavage," she says, "is not a corporate look."
Shown below are some dress terms that should be included in your everyday conversation ("shmus") at the office, playground, or shopping center:
LEVITE
Someone who wears jeans religiously.
GARMITES
n. Those items of clothing that fit perfectly in the store, but somehow shrink on the way home.
(Rich Hall & Friends)
"BILL BLAHS"
That awful feeling that you spent too much for designer clothes.
(Judy Dillon)
BUNIONETTE
Any young professional woman in a business suit and Reeboks."
(Rich Hall "Sniglet")
MELT
A person whose clothing style mixes and matches, usually found in thrift clothing.
(Note: Someone who is thrifty is "shporevdik.")
"FUNCOMFORTABLE"
Film director, Jill Soloway, said (2013), "I call my brand 'funcomfortable.'"
"MEINE CALVIN KLEINE"
Underwear for herr. (Susan Krowitz)
"WAIFS" (MALE)
Underfed, wild-haired feral types looking enormously uncomfortable in pin stripe suits.
(Woody Hochswender)
OLD BOILER
In Australia, it's an elderly woman trying to dress and pass as a youngster.
(Advertising Age magazine, Aug. 7, 1995)
HERSUIT
A woman's business outfit made of mohair.
(Richard Procida)
JEAN MALJEAN
Manufacturer of miserable French denim pants.
(Pericles Crystal)
ARROW BIC
Ink stained resistant exercise shirts.
(Willam A. Hinkley)
EARTH MUFFIN
Someone who wears Birkenstocks, no makeup and is into nature.
POWER SUIT
A well-tailored dark suit worn over a pair of blue leotards with the red "S" on the chest.
DAPPER DAN
A nickname for a very well-groomed man.
PINK SLIP
Down-sized lingerie.
(Gary Kraidman)
DRASUAL
Clothing appropriate to occasions that are neither dressy nor casual. (think B-A-R-K MITZVAH--a celebration when your dog turns 13.)
(Christina Jones)
And, according to Esquire Magazine, March 2005, "NEVER BUY ANYTHING YELLOW. How to break it: Unless it's a Lamborghini."
"HAND-ME-UP"
n. A used object, especially an article of clothing passed from a younger person to an older person.
ESSEX GIRL
Flashy suburbanite with more gelt than taste.
"JEAN DE FLORETTE"
Paisley dungarees.
(Lisa Brickey)
"MALL DE MERE"
Maternity shopping center.
(Martin Blume)
"NONSENSE PANTY HOSE"
"for women who like to fool around"
(Paul Zachos)
TANKINI
A swimsuit ("bodkostyum") with a bikini bottom and a tank top (for women who want to look "yung" (young) but don't want to show their "mitn" (middle).
BURPLE
A color midway between blue and purple.
"BLEKHENE HEYZN"
(jeans) President Obama was once criticized for wearing high-waisted, rumpled,baggy Levis when he threw out the first pitch at Major League "beysbol's "All Star Game in St. Louis. Meredith Vieira ribbed him and Obama admitted that he was a little "frumpy." The president's pants have been dubbed "mom jeans."
GRUNGEWEAR
Those clothes from the Salvation Army ("yeshue armey").
SEASONLESS
According to Paul Rudnick, 2001, "Seasonless" means it will never look good.
WARDROBE BASIC
According to Paul Rudnick, "The only real 'wardrobe basic' is a rich husband."
WEAR IT IN GOOD HEALTH
One of those expressions everyone hears, a hundred times over the years. It is commonly said to someone who buys or is given clothing of some kind.
-----------------------------------------------------------------------------------------------------------
Chef, Mario Batali can get away with wearing an orange ponytail, orange Crocs,orange vest and purple shirt. You can't!
Marjorie Wolfe agrees with the late Andy Rooney: "The phrase 'blue collar worker' has lost its meaning because now a lot of the men who go to work in offices and never lift anything heavier than a ballpoint pen wear collars that are blue. They don't wear neckties ("kravat"), cufflinks, vests, button-down collars or suits."
___________________________________________
Marjorie Gottlieb Wolfe is the author of
two books: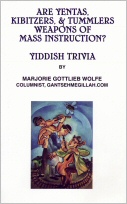 "Yiddish for Dog & Cat Lovers" and
"Are Yentas, Kibitzers, & Tummlers Weapons of Mass Instruction? Yiddish
Trivia." To order a copy, go to her
website: MarjorieGottliebWolfe.com

NU, what are you waiting for? Order the book!


Site Designed and Maintained by
Haruth Communications