IT'S "BEYBI" (BABY) BUMP WATCH...
AND PLEASE CALL HILLARY


by
Marjorie Gottlieb Wolfe



Syosset, New York
"BABY BUMP" IS THE MODERN TERM FOR A WOMAN WHO IS "WITH CHILD." IN YIDDISH, WE SAY THAT SHE IS "SHVANGER"--PREGNANT.
"BABY BUMP WATCH" IS DEFINED AS FOLLOWS: WHEN THE MEDIA SUSPECTS A CELEBRITY IS "WITH CHILD."
"BABY DADDY" IS THE MAN WHO FATHERED THE BABY, IN OR OUT OF WEDLOCK.
"BIG GRANDMA" IS THAT GRANDMOTHER WHO LIVES FARTHER AWAY THAN "LITTLE GRANDMA." (Scott Newsome). "FAR NANA" IS USED IN ANOTHER FAMILY (Mary Little). Source: "Family Words" by Paul Dickson.
The headlines read: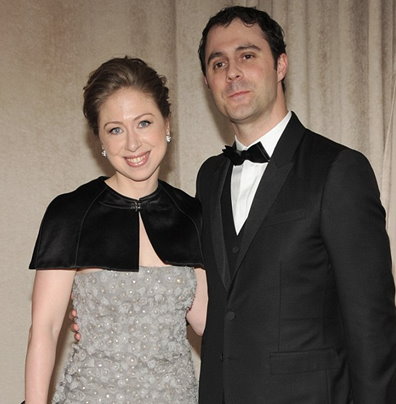 CHELSEA CLINTON, MARC MEZVINSKY WANT TO "MAKE 2014 THE YEAR OF THE BABY."

The late Nora Ephron, American writer, was right when she said, "When you have a baby, you set off an explosion in your marriage, and when the dust settles, your marriage is different from what it was. Not better, necessarily, not worse, necessarily; but different."

Others have said,
A baby will make
love stronger,
days shorter,
nights longer,
bankroll smaller,
home happier,
clothes shabbier,
the past forgotten,
and the future
worth living for.

In an interview with Glamour "zhurnal" (magazine), Chelsea Clinton said she and her husband "want, God willing, to start a family...And please, call my mother and tell her that. She asks about it every single day."

In a recent interview with "CBS This Morning," Bill Clinton guessed his wife would take grandchildren over the presidency. (He made a similar comment in Jan. of 2011.) "I would like to have a happy wife and she won't be unless she's a grandmother..."

Is the media "makht a gantsn yontev fun dos"--making a big deal of this?

In the Jewish religion, we hear, "Be Fruitful and Multiply." To Jews, having a child meant fulfilling a divine commandment: it was to perform the first mitzve. Not to have children was an affront to God (Genesis: Rabbah, 34:14). We hear that "the nakhes (pleasures) you get from children are more precious than gold."

Carrie Latet said that "Pregnancy is a disease from which you recover in 18 years and 9 months." And Erma Bombeck had wonderful advice: "Never go to your high school reunion pregnant or they will think that is all you have done since you graduated."

In 1974, Joan Rivers wrote a book titled, "Having A Baby Can Be A Scream." When the doctor asked her "Isn't your husband pleased you're pregnant," she replied, "I'm not sure. When I telephoned to tell him the great news, he put me on 'hold.'" The following discussions takes place between Joan and her doctor:

Joan: How will I know the date my baby is due?
Doctor: The doctors usually figure on 280 days from the first day of your last menstrual period. But no one knows exactly how long it will take your baby to develop. Be patient. Two week one way or the other should not be alarming.
Joan: Unless, of course, I'm in labor for those two weeks.
Doctor: You look like a nice, normal, healthy girl. I hardly think that will happen-- not with proper care and exercise.
Joan: Exercise?!! Doctor, I'm Jewish, Jews don't exercise. We sell the equipment."

And later, Joan asks the doctor, "And speaking of two, how about sex?"
Doctor: Miss Rivers, I'm a married man.
Joan: Oh, not with you! I mean with Edgar--or someone who looks a lot like him-- like Paul Newman.

Dustin Hoffman told the Daily News in 1993, "I like everything about it but the word grandfather." He opts instead for the name "grand-shtupper." (Check your Yiddish dictionary for procreation terms.)

In a year or so, will we hear Hillary having this conversation with her Chappaqua neighbor:
Hillary is wheeling her grandchild down the street, when the neighbor stopped her, peeked into the pram and cried, "My, my! What a gorgeous baby!" "You think she's gorgeous?" said Hillary. "Wait'll you see her pictures!"

As we look back at TV sitcoms, we see how they handled pregnancy.

ALL IN THE FAMILY
Episode: "Gloria Has a Full Belly"
Season 1, Episode 6
Archie hits "der dakh" (the roof) when he learns Gloria is pregnant and unemployed college student has no means of support. Gloria comes home from "der dokter" (the doctor) with some "nayes" (news): She's "shvanger." This leads to a big argument between Archie and Mike. So, Mike decides to quit school and move out. Archie doesn't believe him, that is until Mike gets a job in Detroit and plans on moving there However, plans for a move are suddenly halted when Gloria suffers a miscarriage.

Episode: "Gloria is Nervous"
Pregnant Gloria's "due date" has come and gone. In fact, "neyn" (9) full days have passed since Gloria was supposed to give birth. Frustrated beyond belief, Gloria explosively takes out her "kaas" (anger) on Mike--and before long even Edith has fallen victim to her daughter's crabbiness.

Episode: Birth of Baby, Part One, 12/15/75
Gloria goes into labor while she's stuck in a restaurant telephone booth. Mike and Edith try to free her and ship her to the hospital. Archie receives the news while applying blackface for a lodge minstrel show.

Episode: Birth of Baby, Part Two
Mike is finally able to pry the in-labor Gloria from the restaurant telephone booth and rush her to the hospital. Grandparents (di zeyde-bobe"), Archie and Edith, arrive first. The only "ruik" (calm) member of the family is Gloria, who keeps "kil" (cool) through the delivery while Mike suffers his own version of labor pains. This program made history as the first sitcom episode to show an actual live birth (courtesy of a pre-taped sequence).

I LOVE LUCY

EPISODE #51, AIRED 12/15/52
Episode: "Pregnant Women are Unpredictable"
The Ricardos are choosing baby names and Ricky decides to prepare Lucy's "frishtik" (breakfast). He has trouble finding all the items needed, causing Lucy to make several treks into "di kikh" (the kitchen). She informs him the cooking isn't necessary, as he hasn't the "koyakh" (strength) to be of assistance. He prepares it anyway. Lucy realizes that Ricky is catering to her because of the baby; he never did these things for her before. When she opens the gifts he brings her and sees they're for the baby, she begins to weep ("veynen"). He tells Edith he can't figure Lucy out lately. She tells him Lucy thinks he cares only for the baby. So, he does something just for Lucy. He sends flowers and "tsukerl" (candy) and calls to ask her to the club to eat dinner and to dance ("tantsn"). While enjoying the evening with Ricky, she cries again, feeling he no longer cares for the baby now.

Note: When Lucy was pregnant with Little Ricky during the second season of I Love Lucy, CBS wouldn't allow use of the word "pregnant." The network thought it would be in bad taste. They used the word "expecting" instead.

And, finally, some helpful advice for Hillary and Bill: Joan Rivers said, "Usually, grandparents are very helpful. The baby often gives them a whole new lease on life. But don't let them, or the baby, disturb your routine. Try to keep the routine of your house as normal as possible. If you start out tiptoeing around and shushing ("shtil") everybody, your baby will grow up thinking the only normal environment is a Christian Science Reading Room."

----------------------------------------

___________________________________________
Marjorie Gottlieb Wolfe is the author of
two books: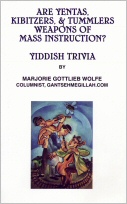 "Yiddish for Dog & Cat Lovers" and
"Are Yentas, Kibitzers, & Tummlers Weapons of Mass Instruction? Yiddish
Trivia." To order a copy, go to her
website: MarjorieGottliebWolfe.com

NU, what are you waiting for? Order the book!


Site Designed and Maintained by
Haruth Communications