NEW YORK FASHION WEEK:
34 THINGS YOU SHOULD KNOW ABOUT
ELIE TAHARI


by
Marjorie Gottlieb Wolfe



Syosset, New York
DON'T HAVE A "BILET" (TICKET) TO NEW YORK FASHION WEEK?
NEITHER DO I. WE BOTH MISSED SEX THERAPIST, RUTH WESTHEIMER, IN THE MERCEDES-BENZ LOUNGE. SHE ASKED HER CREW AS SHE LEFT, "DO YOU THINK I WILL BE ON PAGE 6 (NEW YORK POST) TOMORROW?" SHE WAS!
Shown below are 34 FACTS about designer, Elie Tahari:
"GEB A KUK"--GIVE A LOOK!
Elie is a HE, not a SHE! People see the name Elie and think it's a woman's name.


Tahari, 61, was born in Jerusalem. He was the middle "zun" (son) of a Persian Jewish couple.


He has 4 sisters, Aliza, Diana, Shulie and Illana, and two brothers, Avraham and Yosi.


The family immigrated to Israel from Iran and lived then in the transition camp of Al-Qastal, now Mevasseret Zion. In 1953-1957, the family returned to Iran, then came again to Israel.


Tahari's parents divorced and his father remarried. Elie was sent by the Israeli social services into an orphanage in Rishon Lezion.


When Tahari became of age, he served in the Israeli air force as a "mekhaniker" (mechanic).


In the "zumer" (summer) of 1971, with almost no money, he spent the nights on the park's benches. Today he lives in a luxury high rise right across from Central Park. (Note: The Yiddish words for homeless wandering is "valgerin zich.") "Ibergekumene tsores iz gut tsu dertseylen." Bygone troubles are good to tell.


Tahari found work changing light bulbs in New York's garment ("malbush") District. He sold women's clothing at night. He loved the job and it was "all about getting the girl."


Tahari's first big success ("hatslokhe") was selling the tube top. He said they were "very popular" and sold for $4. Women came in and bought them by "der tuts" (the dozen).


Tahari has been dubbed the "King of the Suit." (He transformed the then-masculine suit from boxy to foxy.)


Mayor Bloomberg and theCity of New York declared Wednesday, Sept. 4, 2013, honorary "Elie Tahari Day."


Re: " Tahari Day" "It sounds great, and makes you feel good, and it's humbling...I don't know what I did to deserve it, but I've been a good taxpayer all these years." (quote)


Tahari's designs are sold in more than 600 stories in the U. S.


His customers include Angelina Jolie, Elizabeth Hurley and Beyonce.


Tahari's initial samples are made to fit tall ("hoykh"), skinny ("oysgedarcht") runway models, but the clothes that will be shipped out to a store near you are fit on members of Tahari's office ("byuro") staff. They're actual people, with actual hips.


Tahari never had any formal training. He just seemed to know what women wanted. "Er hot a kop oyf di pleytses." (He has a good head on his shoulders.)


Tahari had this to say about celebration ("simkhe"): "My celebration is when I see people and they're having a good time. After a show, I want to go home, take a bath and go to bed."


In the days after the terrorist attacks of 9/11, Tahari wanted to show how he felt about his adopted ("land"/"medine") country. He put up a flag on the building that he owned and it grew "greser" (larger) and larger.


Tahari's marriage to former journalist, Rory Green, dissolved. The couple divorced after their 10-year prenuptial agreement became "posl" (void).


Tahari's "eytse"/"aitzeh" (advice) for people who ask, "How did he do it?" He says, "Everything ("altsding") you do, make sure you love it. It's all about love."


In 2001, Thomas Horodecki, 36, a New York fashion executive for Tahari, sued his bosses for $2 million. He claims trying to sell expensive ("tayer") jackets and dresses to the people of New Jersey was too difficult ("shver") because they have no idea about fashion. He had previously sold in Manhattan and then was banished to stores in Hackensack and Paramus, NJ. New Jersey has long endured stereotypes about its residents, not helped by reality TV shows such as Jersey Shore. Horodecki claims his Jersey-inspired depression ("more-shkhoyre") was so bad he had to leave work on disability.


In 2011, one of the company's executives sued Tahari's company accusing it of discriminating against non-Israelis.


Tahari's business is valued at APPROXIMATELY $500 "milyon." He went from rags to riches. "Ven es geyt glaykh, vert men raykh." When things go right, you become rich.


Tahari said that "A well-dressed woman's outfit is never complete ("fulshtendik") without a well-dressed attitude." (quote)


Tahari believes that women should always wear clothes that are quieter than her. That way her true beauty ("sheynkaht") can show through.


Tahari says that men should never be afraid to wear "kolir" (color).


Tahari says that his mother is the most amazing woman he knows.


"A shlekhte mame iz nito." There is no such thing as a bad mother.


Tahari says that happiness ("glik") is "my children" ("mayn kinder")."Nakhes fun kinder iz tayere fun gelt." Joy from children is more precious than money.


Tahari says "There is too much negativity in the universe. He wishes peace and tolerance for the world ("di velt").


Tahari says, "There's a time and place for fun ("hanoe") and a place for work. Work hard--play hard."


Tahari says, "Financially, I'm comfortable. But life ("lebn") has a lot more in store for me." (quote)


Tahari says, "I had to succeed ("matsliakh zayn"). Failure means I would have go be homeless again."


Elie's Spring 2014 Men's Collection combines distressed fabrics with smooth tailored elements. Key pieces include a slim fit leather ("leder") biker jacket, stretch linen cropped pants, a herringbone linen garment washed jacket ("yak"), sharply tailored blazers and mixed media leather and nylon ("naylon") outerwear pieces, with details including contrasting trims, raw edging, and a palette of blues, cool gray tones with a hint of teal.
---------------------------------------------------------------------------------------------
MARJORIE GOTTLIEB WOLFE adheres to this statement:
The Talmud says, "In your community, your reputation matters.
In a strange place, YOUR CLOTHING COUNTS!" The Talmud also says, "When prices drop, BUY!" .
___________________________________________
Marjorie Gottlieb Wolfe is the author of
two books: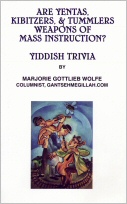 "Yiddish for Dog & Cat Lovers" and
"Are Yentas, Kibitzers, & Tummlers Weapons of Mass Instruction? Yiddish
Trivia." To order a copy, go to her
website: MarjorieGottliebWolfe.com

NU, what are you waiting for? Order the book!


Site Designed and Maintained by
Haruth Communications