IT'S A "SHANDA"


by
Marjorie Gottlieb Wolfe



Syosset, New York
In Yiddish, "shanda"/"shande" means "shame." And "shande far di kinder" means, literally, "a disgrace for the children."
Arthur Naiman writes about the expression, "a shanda fur die goyim": "To make a shanda fur die goyim is to do something embarrassing to Jews in a place where non-Jews can observe it. Understandably, this is looked on with much greater disfavor than to act like a jerk when only other Jews are around, since it makes things tougher on all of us--"Those damned Jews! See what they're like."
Source: "Every Goy's Guide to Common Jewish Expressions"
Perhaps Naiman was thinking of Madoff--the "ganef"--or Jack Abramoff. Both are "a shanda fur die goyim." Abramoff is a former American lobbyist, businessman, movie producer, and writer, who was at the heart of an extensive corruption investigation that led to his conviction. He was sentenced to 6 years in federal prison for mail fraud, conspiracy to bribe ("khabar") public officials, and tax evasion. He served 43 months.
Before the big "skandal" happened, the Abramoff family was "raykh" (wealthy) and "gliklekh" (happy.) Jack and Pam had 5 children together, and the Orthodox Jewish family lived an "pazronish" (extravagant) lifestyle.
Shown below are some additional comments and stories about the word "shanda"/"shande."
Josh Nathan-Kazis wrote a wonderful article titled, "Talking in Shul Is an Orthodox Shande." It included this joke:
A rabbi asks a pious Jew and an atheist why they attend synagogue.
The pious Jews says that he comes to talk to God; the atheist responds that he comes to talk to the pious Jews.
Source: Forward, Sept 6, 2013
Barbara Goldberg Goldman wrote, "Because I am Jewish, because I am a Democrat and I am active in that arena, I see it as a tragedy that Weiner and Spitzer are running again. There are many fine candidates out there who do not come with baggage," she said. "Find another job. It's chutzpah."
Source: "The Shanda Factor: What makes Jewish sex scandals different?", 7/25/13, T.O.T. Private Consulting
Saul Friedman, columnist, Gray Matters, 5/12/10, wrote an article titled, A "Shanda" on America: Hunger in the 21st Century":
"More than 6.7 million Americans who are described as having 'low food security' regularly lack sufficient food to eat. Nearly all reported that the food did not last a month."
Selling organs is a "shande"--a shame. Need a kidney? Buy one for 20k in Russia Need a liver transplant? Visit the Philippines, cost: $129k Need a heart? South Africa has them for $140k
Source: Lisa Ling, National Geographic Special on Organ Donations


Jason Kapel ("Oy What a Shande: My Confession and a Question") confesses that he believes that, despite being few in numbers, we [Jews] are strong, cohesive, and thriving people because of our ingrained attitude of taking care of our own. By that he is referring to both the level of philanthropic giving and patronizing local Jewish-owned businesses. (He's been told that this trait sets us apart from many other minority groups and at least partially explains our success as a people.)
His question: Is the take care-of-your-own mentality still strong within our generation? Source: blog, Twin Cities Daily Planet, 3/10/11.
As we approach the Jewish New Year, Marnie Winston- Macauley writes that rabbis are ready for their closeups! "You think it's easy for rabbis to write inspiring, wow-factor words for congregants who crowd synagogues, at least on the High Holy Days? Especially as this is (sadly) their big opportunity to bring people in more than twice a year! In early September 2011, the Board of Rabbis of Southern California started to turn to Hollywood comedy writers from shows such as Mad Men and 3rd Rock from the Sun in a workshop titled (ready?) "Punching Up Your Holiday Sermons." So, should your rabbi start the Holy Days with "There was this rabbi, minister, and priest who met up with a wayward bear on Wisteria Lane..."ask yourself, "Can Don't Curb Your Enthusiasm be far behind?"
Source: "The Joy of Jewish Humor," 2013 calendar, by Marnie Winston-Macauley.
In my opinion, it's no "shande" to incorporate TV shows into sermons....but I'm confident that most rabbis will be discussing the possibility of an attack on Syria and the implications for Israel this year.
Anthony Weiss wrote a piece titled, "Fallen Eliot Spitzer Was a Favorite Son Of a Tribe He Never Quite Embraced." Yes, he wrote about Spitzer's involvement in a high-priced prostitution ring: "For much of his career, Spitzer was a source of pride to Jews, with some supporters referring to him as having the potential to become the first Jewish president. In the blogosphere ethnic pride, when the scandal broke, the Web site, Gawker, proclaimed it's a "shanda fur die Goyim."


Jerry Gordon wrote (April 28, 2006), "By granting Tony Kushner an honorary doctorate at what passes as a Jewish in origin 'non-sectarian' elite university, Brandeis has fallen far from the words and values of its founding icon, Justice Brandeis.
Tony Kushner is an anti-Zionist self hating shatdlan who never had a moral compass even in his genes nor has he any sense of Yiddishkeit. Brandeis has committed a SHANDE."
Broadwayoffers.com said [in 2005], "It would be a shanda to pay retail" for tickets to the show "Modern Orthodox." Regular price: $66 Our price: $42
And the last true story about the word "shanda" was written by Michael Lando and titled, "Food Cart-Smorgasbord or Shanda?"
JWeekly.com (11/9/07) reports, "While food carts are a ubiquitous staple in New York culinary life, the arrival in Brooklyn's ultra-Orthodox Williamsburg enclave of Sub on Wheels, the first glatt-Kosher food truck, has sparked a heated battle... Protesters think the food truck encourages fress, a Yiddish word meaning to eat more than is necessary. Fast food is not considered a viable alternative to home-cooked meals by haredis...Some also fear that the truck encourages men and women to mingle on the streets...Nathan Lichstenstein, who parks his truck in the heart of the neighborhood, has been through four heart attacks and the loss of a child. He insists he is here to stay. "You can take the kid out of Williamsburg, but you can't take Williamsburg out of the kid."
---------------------------------------------------------------------------
MARJORIE GOTTLIEB WOLFE says, It's a shanda that before W.W.II,
Yiddish was spoken by 11 million to 13 million people.
Today, it is spoken by perhaps one-tenth as many.
Source: "The Portable Jewish Mother" by Laurie Rozakis, PH.D.
___________________________________________
Marjorie Gottlieb Wolfe is the author of
two books: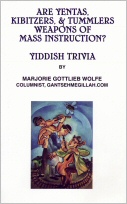 "Yiddish for Dog & Cat Lovers" and
"Are Yentas, Kibitzers, & Tummlers Weapons of Mass Instruction? Yiddish
Trivia." To order a copy, go to her
website: MarjorieGottliebWolfe.com

NU, what are you waiting for? Order the book!


Site Designed and Maintained by
Haruth Communications